Commercial Glass Service
District Capitol Glass provides high-quality repair in a timely manner. Glass that is cracked or broken presents a serious threat to the security of your store and its contents. Ensure that you pick a reputable business to install your glass panels and attend to your immediate needs. Emergency storefront glass repair, board up, specialty glass repair, and glass replacement are among our services.
District Capitol Glass tries to give our clients with high-quality materials that are installed accurately and safely, from the initial estimate to the final installation.
Call us whether you need help with commercial glass in construction, remodeling, or commercial replacement glass.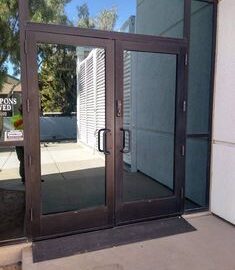 For all your building needs District Capitol Glass is your partner in providing full glass service :
– Commercial glass repair and replacement
– Commercial glass door repair and replacement
– Storefront glass repair and replacement
– Office glass partition Aluminium and frameless glass wall system
– Security entrance
– Commercial aluminum windows Broken Glass door
How It Works
Step 1: Make an appointment for a free estimate.
Request an appointment for a project consultant to come to your house and estimate your needs. They'll come to your house to check it, go through material possibilities, show you samples, and talk about your budget and requirements.
Step 2: Get a Quote
Your estimate is based on the specific needs and requirements of your house.
Step 3: The Day of the Installation
Our team will handle all window installation or replacement details from inception to delivery. You can be safe in your window investment with high-quality goods and dependable installers.