Glass Shower Doors Installation & Repair
You use it on a daily basis, so why not enjoy it?
When you pick the industry leader in showers and bathrooms, upgrading your bathroom is simple. You may finally say goodbye to the days when showering resulted in wet floors throughout your bathroom. Now you may have the shower door of your desires.
Before choosing a product line, a specific door or any additional shower accessories, it's time to select the shower door or bathtub enclosure style that suits your needs and your individual design aesthetic. Shower doors and tub enclosures come in three main types: frameless, semi-frameless and framed. Within these categories, there are two main sub-categories: sliding door enclosures and swinging door enclosures.
For seamless, framed or frameless shower doors, customized walls, frosted glass, tempered glass, and more, we may use your requirements or create something completely unique.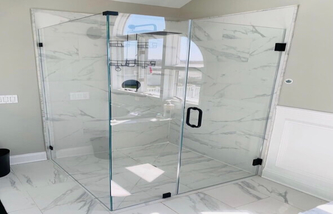 The following are some of the services we provide for custom shower glass:
– Custom Frameless Glass Shower Enclosures
– Semi-Frameless Glass Shower Enclosures
– Framed Glass Shower Enclosures
– By-Pass Glass Shower and Glass Tub Enclosures
– Glass Shower Screens
– Glass Steam Enclosures
– Glass Service for Existing Glass Shower Door
How It Works
Step 1: Make an appointment for a free estimate.
Request an appointment for a project consultant to come to your house and estimate your needs. They'll come to your house to check it, go through material possibilities, show you samples, and talk about your budget and requirements.
Step 2: Get a Quote
Your estimate is based on the specific needs and requirements of your house.
Step 3: The Day of the Installation
Our team will handle all your shower door installation or replacement details from inception to delivery. You can be safe in your investment with high-quality goods and dependable installers.