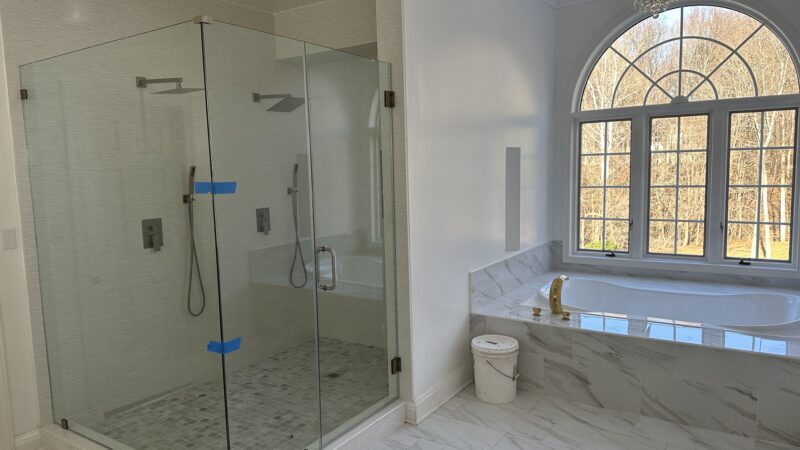 Both when fitting out and renovating a shower room, the shower cubicle is an essential element. While shower enclosures all serve the same basic function, they come in a variety of shapes and sizes. Their recommendations vary depending on the size of your room and your requirements.
Those who have experienced an integral shower cubicle in their bathroom understand how useful and comfortable such an installation can be. Discover the various showers suited to your needs and budget in this press review!
The various kinds of shower stalls
There are various types of shower cubicles available for setting up your shower. They all share a few fundamental components. However, choosing a shower cubicle that meets your needs and expectations will require a better understanding of their traits.
An above-ground shower tray
Because it can be installed in any bathroom and is compatible with all current structures, this kind of shower cubicle is frequently used. It cannot be bought in a pre-made pack. The faucets, the door, the walls, and the tray are all sold separately. The bathroom's floor serves as its receiver, and the evacuation pipes run underneath it before passing through the wall.
You can customize your specially designed shower area by selecting this shower cubicle. You may freely select one or more doors, walls, or shower curtains.
However, due to the high shower threshold, the accessibility of this shower cubicle is still restricted.
An integral shower cubicle: the simplest option
The shower tray, the walls, the fittings, and other components of this type of shower cubicle are all included in the complete installation pack. Connecting the hot and cold water taps makes it simple to install this shower enclosure. The simplicity of setting up this shower cubicle is by far its greatest benefit. You don't do any construction or remodeling. A tight seal between the shower area and the rest of the bathroom is made possible by integral shower cubicles. However, this kind of cabin cannot be customized for your shower space and can only be installed at a right angle.
A shower with an extra-flat floor-standing shower tray: following the trend
The accessibility of this shower enclosure continues to be its best feature. The above-ground shower tray has become thinner but is still easily stepped over and rises a few centimeters above the ground. The extra-flat shower tray is installed directly on the bathroom floor, but it still needs a recessed drain. This shower cubicle adds a decorative element to your bathroom in addition to accessibility and the ability to customize its custom shower space. It frequently brings to mind an Italian shower.
Accessibility is assured with a walk-in shower with a built-in shower tray.
A true shower star, it adds style and beauty to your bathroom. It allows for complete fantasy freedom and true shower space customization. It is completely accessible, including for those with limited mobility or those who are visually impaired, and is situated at ground level. This shower enclosure appears to be more suited to bathroom construction than renovation, though. The receiver must be buried, and the water drain must be integrated.
Before purchasing a shower enclosure, consider the following questions.
Are you prepared to make an investment? Take the time to gather the necessary measurements and examine the layout of your space. Where are you going to put your shower enclosure? Is it a quarter-circle corner, a wall, or a niche? The answer may differ depending on your location. This is especially important in a small bathroom where every available inch of space must be saved.
However, call a professional to ensure your installation at the risk of experiencing problems with sealing, splashing and water flow in your bathroom.
At District Capitol glass, we develop knowledge to deliver sustainable quality ! Our company takes great pride in our experience, expertise, quality and customer services when providing satisfaction of our customer's needs. We act with uncompromising honesty and integrity in everything we do advising you on the most appropriate solution for your needs. We believe in strong core values that guide how we provide solutions to customers, interact with partners, collaborate with colleagues, and conduct ourselves in our personal lives.
November 22, 2022
Categories: